From expert training, to beautiful facilities, see why Parkside Stables is a great choice for riders of all skill levels.
---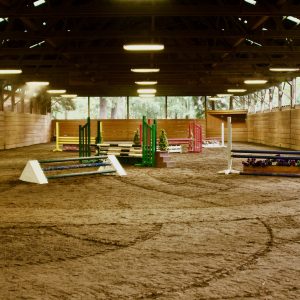 Stables, Facilities and Location
Parkside stables is a beautiful expanse of property so convenient to the Eastside and close to Seattle that riding and visiting the barn is always a pleasure!  Parkside  is set on three acres, abutting 640 acres of Bridle Trails State Park, six miles from Seattle. Our facilities boast extra large horse stalls, five spacious paddocks, dedicated onsite medical care and daily exercise regimes. Our training arena and state of the art equipment and well-crafted footing, prepares riders and horses for top competition in Hunter, Jumper and Equitation equestrian disciplines.
More about our facilities
---
Trainers
Our co-Head Trainers, Morgan and Nora Thomas, with over 40 years of combined experience, have developed a systematic, proven approach to a successful journey supporting beginner to nationally competitive riders and horses.  Safety of riders and health of horses in our program is of paramount importance.  The training is rigorous, disciplined and fun! Our Trainer, Tory Bova and Assistant Trainers, Paige Jensen and Caitlin Liebman, each bring unique skills and capabilities to support riders of all levels with personalized training support through their own journey to meet individual competition goals.
More about our trainers
---
Training Programs and Client Service
Parkside produces happy, healthy horses and strong riders through its diligent three-tiered training program. We offer complete board and training for each horse and rider together, as well as individually, to help both meet their full potential.  Rider and horse must establish a partnership through trust, communication and abilities for the magic to happen that is Hunter/Jumper competition for everyone who competes in the sport. Morgan and Nora are incredibly skilled rider/horse match-makers!
Our clients participate in regular weekly lessons, clinics, and a fun and challenging show schedule. Horses are given an individualized training program to achieve maximum fitness and responsiveness. They are well-love athletes and we care for them with due respect. Our trainers have taken many horses from green and inexperienced to top ribbons at A-circuit shows. If you're ready to take that step, we can help you find the perfect horse and create the partnerships of a lifetime!
More about our training